The first things that come to mind after uttering the word Brazil are probably beaches, football and the carnival. The first image to appear in the mind of a coffeelover, though, are probably neat rows of coffee trees hiding their caffeinated treasure under the cover of a thick foliage.
Brazil is the fifth biggest country in the world, a federative republic consisting of 26 federal states and the federal district of Brasilia. The 32 coffee regions spread over 14 states, of which Bahia, Espírito Santo, Minas Gerais, Paraná, and São Paulo are the biggest five producers. With so many different regions it is no surprise that high quality coffee can be found in Brazil.
In one of the previous posts we discussed the vibrant history that Brazil had with coffee production. The farmers moved frequently, migrating to the south, with the title of largest producer going to different states as well. Today we will guide you through these regions, exploring their differences.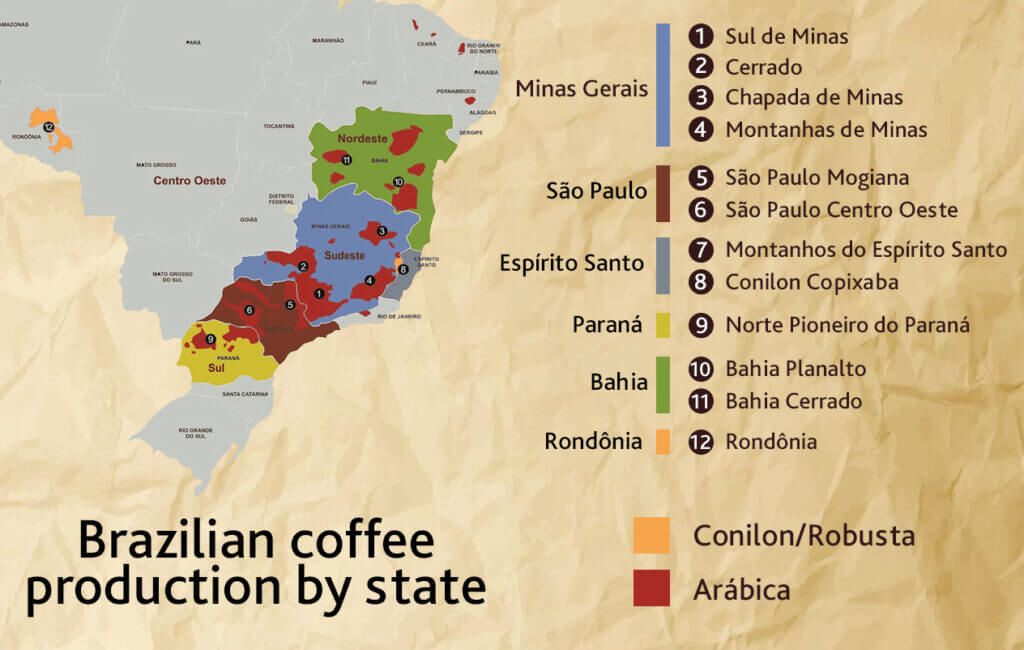 Minas Gerais
Let's start with Minas Gerais or "General Mines" in English, currently the biggest and probably technologically the most developed state that produces around 50% of all Brazilian coffee.
Cerrado do Minas
Home to Rjavi Tukan and Brazil's first coffee-producing region to win Designation of Origin (Cerrado Mineiro) with which it obtained a status similar to French wine-regions. Cerrado is a large region comprising of 55 municipalities strewn between 800-1.300 meters. With its well defined seasons, rainy summers and dry winters (when I was there for three months during harvest it never rained!), it is a region well suited for production of high-scoring coffees. You will find a lot of Mundo Novo and Catuai here, and the coffee tends to have higher acidity with medium body and delicious sweetness.
Sul do Minas
The South of Minas borders on the Mantiqueira mountain range, which means that many farmers grow their coffee on slopes. The majority of the farms are small to medium in size and are much more traditional compared to the estates in the Cerrado. The coffee here, grown on the average altitude of 950 meters is usually full-bodied with light citric acidity and fruity aromas.
Chapada de Minas
Chapada is slightly similar to Cerrado. Both regions are rather young coffee-producing regions and both use the newest technology to improve their crops. Mundo Novo and Catuai are popular here. Many farmers have obtained the UTZ and Rainforest Alliance sustainability certificates.
Matas/Montanhas de Minas
Mata means "forest" in Portuguese and this region is full of them. The region is located amidst Mata Atlantica, a dense jungle of which 85% has been deforested in the past. Many NGOs are fighting for the future of this beautiful jungle, and reforestation and species protection programs are already taking place. The farms here are very small (for Brazilian standards at least) and they produce coffee with citric, chocolate and caramel notes.
Mixing coffee at one of JC Grossi & Filhos farms in the Cerrado region
São Paulo
The state of Sao Paulo has a long history of producing coffee. This is where the port of Santos is located through which the majority of coffee leaves Brazil.
Alta Mogiana
Mogiana is a neighbor of Sul do Minas as the farms are located just on the other side of the Mantiqueira mountains. The terrain is therefore uneven and yields high-quality coffee with a lot of sweetness in the cup. In spite of the challenging terrain, technology is characteristic for farms here and Mogiana is also home to a couple institutes dedicated to researching coffee.
Espírito Santo
There are other states known for growing Robusta such as Rondônia, but Espírito Santo is the largest producer of Robusta in Brazil. Nonetheless, exceptional Arabica can also be found here.
Montanhas do Espírito Santo
Even though this state is more famous for its beaches, the mountain range bordering on Minas Gerais is spotted with small family-owned coffee farms on approx. 1000 masl. Due to the high humidity, cherries here ripe unevenly so it's quite common for the pickers to do a couple of runs through the coffee fields, picking only the ripest cherries. Those producers focusing on quality have found that their coffee carries the notes of fruitiness with high acidity.
The famous Fazenda Ipanema in the state of São Paulo
Bahia
Another state famous for its beaches, good vibes and fantastic music. It's also one of the youngest coffee-producing states that has adopted the newest technology available and is capable of producing high-quality beans.
Cerrado and Planalto da Bahia
These two regions win the title of the most high-tech producers in Brazil. The productivity rate is the highest in the country due to fully mechanized farms, which are able to achieve uniform ripening of the cherries. The terroirs with sufficient water resources, dry summers and rainy winters are capable of producing exceptional coffees with full body and low acidity.
Paraná
Once the biggest producer in Brazil and the world's southernmost coffee-producing region is now often pestered by frosts and other diseases. Many farmers migrated to other regions in the seventies after the catastrophic black frost in 1974. Still, coffee farming persists in Parana and is one of the very few regions that is capable of producing high-quality coffee at low altitudes. The combination of altitude, climate, medium-low latitude and the excellent red soil "terra roxa" which verges on purple provides for a longer period between flowering and maturation, which allows for the more intense development of flavours. The beans here are known for their density.